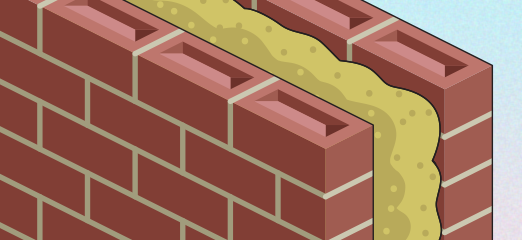 If you have been looking for ways to make your home more energy efficient and to reduce your carbon footprint, then you will have almost certainly come across something called cavity wall insulation.
But what is cavity wall insulation, and how do you get it?
What is cavity wall insulation?
Cavity wall insulation refers to a form of insulation that is installed in-between two walls, thus filling a 'cavity'. It sounds really simple, and that's because it is. The insulation fills the gap between the walls to stop cold air from circulating. This has the effect of stopping draughts and trapping warm air. The air between the walls actually insulates the property.
Cavity wall insulation is most commonly made from mineral wool (ROCKWOOL is the most common brand) or expanded polystyrene beads (EPC). Cavity wall insulation has been well plugged by the Government, and it is something that's widely recommended on Energy Performance Certificates.
How is cavity wall insulation installed?
Cavity wall insulation is blown into the cavity from outside the building using special equipment. A series of small holes are made in the brickwork or the stone to enable this to happen. Those holes are sealed up afterwards – you will barely notice them. For cavity wall insulation to be completely effective, it needs to fill the whole cavity space, or nearly 90 percent of it. As a result, it's crucial that an installer can access all of your external walls. Unfortunately, cavity wall insulation installation is not a job you can do yourself. You will need to get an expert in to do it for you.
I have solid walls, can I still get cavity wall insulation?
If you have solid walls then cavity wall insulation cannot be installed, because there is no space between the walls to fill. You would have to have a thin internal wall built that leaves a cavity between it and the original wall. Cavity wall insulation could then be installed into the new wall's cavity. To be effective, there has to be a cavity 50mm wide to fill.
How do I get cavity wall insulation?
You may be able to get cavity wall insulation installed for free. Under the Government's ECO scheme, larger energy suppliers are required to help householders save money on their energy bills – with cavity wall insulation being one method. The Government's ECO Scheme will run until 31 March 2017. You should contact your energy supplier to see if you are eligible.
Alternatively, there are contractors out there who will do the job for you. The average per square metre cost of cavity wall insulation is £35 for internal walls, but prices can be as high as £50. As always, you should take your time when researching the market and only choose an installer who is reputable. Your insulation installer should also be a member of one of the following organisations:
– National Insulation Association (NIA)
– Cavity Insulation Guarantee Agency (CIGA)
– British Board of Agrément (BBA)
Is cavity wall insulation worth it?
There have been a few notable studies looking into the effectiveness of cavity wall insulation from an efficiency point of view, and the overwhelming conclusion has been that cavity wall insulation is one of the best investments one can make to save energy.
Here are some real-world examples of the savings you can make: Detached house with four bedrooms – £275 per year. Semi-detached house with three bedrooms – £160 per year. Detached bungalow with two bedrooms – £110 per year. End of terrace house with 1 bedroom – £80. Of course, those savings are based on the reduced need to turn on your central heating system – your home will stay warmer for longer after your insulation has been installed.